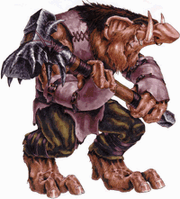 Wartoks
are tall, red-furred, boar-like creatures. They are usually found in the company of the smaller
grulls
. Both species are sometimes (erroneously) referred to as "orcs."
They resemble large and hairy trolls with two large tusks. Their fur is bright red, and they have better equipment depending on rank. Lower wartoks wield a single axe, while higher ones wield an axe along with a shield.
Notable Wartoks
Edit
Ad blocker interference detected!
Wikia is a free-to-use site that makes money from advertising. We have a modified experience for viewers using ad blockers

Wikia is not accessible if you've made further modifications. Remove the custom ad blocker rule(s) and the page will load as expected.